On this page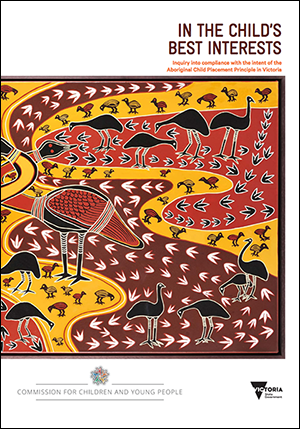 About the inquiry
In the Child's Best Interest is a systemic review of the Victorian child protection system's compliance with the Aboriginal Child Placement Principle.
The review could not find a single case where agencies complied with all the requirements to meet the intent of the principle. Victorian child protection services are not complying with vital protections put in place across Australia to prevent a repetition of the impact of Stolen Generation policies.
Recommendations
We made 54 recommendations for improvements to achieve compliance with the intent of the Aboriginal Child Placement Principle for children in out-of-home care in Victoria.
Download
In the child's best interests - inquiry into compliance with the intent of the Aboriginal Child Placement Principle in Victoria (PDF, 3.6mb)