On this page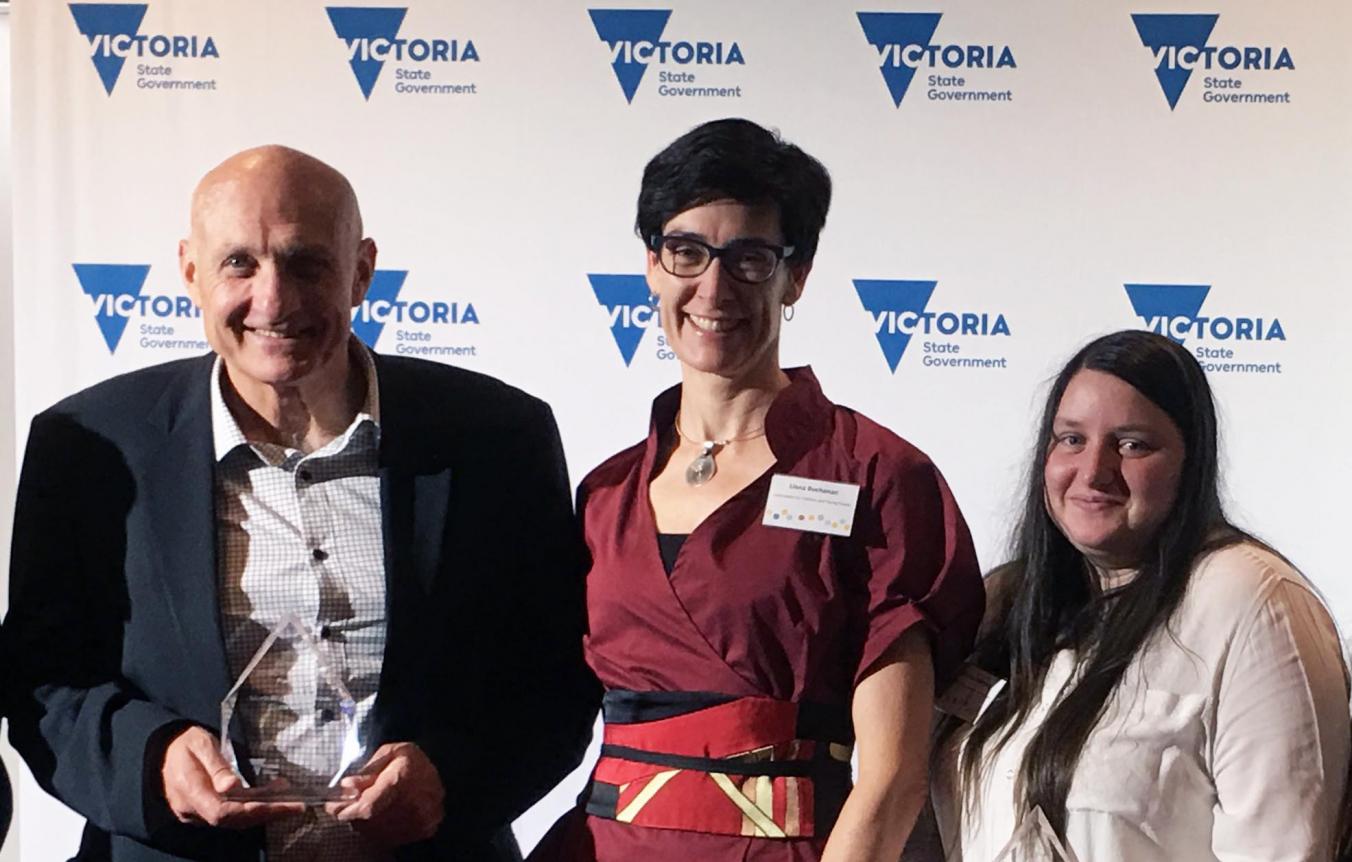 For the tenth year in a row, the Commission participated in Victoria's Protecting Children Awards to recognise the efforts of three remarkable people who work to defend the rights of vulnerable children and ensure their voices are heard.
Modelling a Generous Community
The Modelling a Generous Community Award recognised Natasha Anderson and John Lorenzini as winners.
Natasha Anderson
Natasha is a youth advocate who works for Y-Change, a program run by Berry Street for young people aged 15-25 who have experienced disadvantage. She also sits on the Victim Survivors Advisory Council, which informs the Victorian Government's implementation of the family violence 10-year action plan.
Natasha has been recognised for her courage in bringing the voices and experiences of young people to create change in the out-of-home care system and family violence reforms.
Natasha says we are in the middle of a lot of positive changes in the family violence area. However, more work needs to be done to ensure the voices of children and young people in out-of-home care and of those who are affected by family violence are not just heard, but acted on.
'There's a lot of uncertainty these days for young people and if you're in the out-of-home care system you are actually worse off than a lot of your peers,' Natasha says. 'These kids aren't growing up in a stable home or with a stable family and they're expected to get out of care aged 18 and just get on with their lives and that's often impossible. You can't do that when everything is against them.'
Principal Commissioner for Children and Young People Liana Buchanan praised Natasha for her courage when speaking out about issues that affect young people. 'I have repeatedly been struck by how articulate and compelling she is when she presents a view. She often cuts right to the heart of what needs to be said, and is fearless not only in her preparedness to speak from the heart but to speak truth to power,' Liana said.
John Lorenzini
John is a volunteer with the Independent Visitor Program in youth justice centres, and the Youth Referral and Independent Person Program.
When he's not working, this grandfather of two generously donates his time to act as a support person for young people at police interviews, bail hearings and remand hearings.
John has been involved for four years in the Independent Visitor Program at youth justice centres. He has an excellent ability to engage with the young people he visits, listen to their concerns and negotiate with staff about addressing issues raised by young people.
He believes that harsh treatment is not the way to re-engage young people in centres. 'There's always talk about how soft it is, but of all the kids I speak to, none of them really want to be there, and the only ones that don't want to leave are the ones that have a dreadful life outside. That's more an indictment on what happens to them outside than inside.' John says.  
Liana Buchanan, in presenting the awards commended on John on his persistence and determination to see things improve for kids. 'He has been able to build positive relationships with the young people in the centres, while also working constructively with centre staff and managers to raise issues and get things fixed or delivered.'
Walda Blow Award
The Walda Blow Award recognises the contribution of an Aboriginal person in Victoria to the safety and wellbeing of Aboriginal children and young people.
Emma Thomas
This year, the award celebrated the contribution of Emma Thomas, Building Strong Aboriginal Youth regional coordinator in the City of Casey. Emma's work takes her all over Melbourne's south engaging Aboriginal young people in wellbeing programs in areas such as mental health, sport and cultural connections.
One of the most important parts of her work is getting young people to find connections with their culture that they sometimes didn't know they had. These programs have had an impact on many Aboriginal children giving them more confidence.
'One of the biggest things is seeing a young person who didn't know where they fit in confidently tell you they are Aboriginal, and you can see a sense of pride and belonging, which in some cases has been life-changing,' Emma says.
Presenting the award on behalf of the Commissioner for Aboriginal Children and Young People, James Fraser from the Commission said 'Emma is very passionate in her role and believes strongly in the strength and potential of all Aboriginal children and youth. Her ability to influence government policy discussions, commitment to a holistic approach supporting Aboriginal children and young people including those who are in out-of-home care, and ensuring strong connection to culture, are just some examples of her dedication.